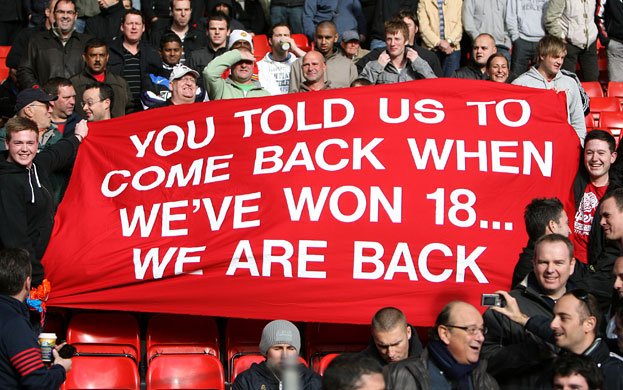 So it has come to this: 8.00pm tonight, Manchester City v Manchester United. A win for either will effectively give them the Premiership title. A draw gives Manchester United the advantage (still a lead of 3 points with 2 further games).
Of course, it is just a game. A game involving two of the richest clubs in the world and the lead players of each paid over ten times a week what I get paid in a year. The money is obscene and the national focus disproportionate.
But it is football! It may well be overblown and overpaid;  however as someone who has followed the fortunes of the team in red for over 35 years, I know who I will be cheering for. That is if I could bear to watch. It is rare that I would voluntarily chose a church meeting over football, but tonight I am. I will resist the lure of the score on my smartphone, I will be fully present that evening, I will not rush off, I will give people the time and space they need.
Manchester United may have a lot of form and experience when it comes to this time of the season, with the ability to conjure results up and grind out wins when others are falling by the wayside. This season, they have not been good and resemble a prizefighter, repeatedly knocked to the canvas, yet grimly standing up again and again and somehow winning. The real battle of football has come once again to two Northern clubs fighting for domination.
So, why am I blogging about this? Why not… I am sure that in some way the beautiful game is part of the beautiful creation. Plus, I like it. I may be very low come tomorrow, or very elated. See; I am not perfect, holy beyond measure or sinless and pure.
And in case you want to find me tonight, I may eventually be found in a place that has evil Murdoch Sky, watching TV through anguished fingers and fearing the worst….. a 3-0 City victory…