[youtube]yC13juMBtLU[/youtube]
All I ever wanted to hear today…..
I led the funeral of this man yesterday who I had met on a few occasions and was the father of a friend.
It was a very moving ceremony and this from someone who does not 'do' pomp. I have never had military involvement at a funeral, but it was restrained and dignified. Even more so were the number of ex Falklands soldiers who turned out and saluted someone who they regarded as their hero.
I do not want to say much more, so I will just reproduce his obituary; here from the Guardian:-
Sir Rex Hunt, who has died aged 86, was governor and commander-in-chief of the Falklands Islands at the time of the Argentinian invasion on 2 April 1982. The ignominy that he felt in handing over authority to a foreign power – he refused to use the word "surrender" – was redeemed four months later, in the wake of a war that cost nearly 1,000 lives, when he returned to the islands in triumph as the colourful figurehead of re-established British rule.
Like most in the Falklands community, Hunt had half-expected the invasion; he had read the diplomatic runes and observed the naval manoeuvres. Definitive confirmation that an 11,000-strong Argentinian force was on it way came less than 24 hours before the event in a Foreign Office cable that concluded, "You will wish to make your dispositions accordingly." With a detachment of 69 Royal Marines, the nominal military presence Britain maintained on the islands, supplemented by a volunteer defence force, the outcome was never in doubt.
Hunt sent his family and domestic staff away with only their most valuable possessions (his housekeeper took a picture of the Queen and a bottle of gin). A small but tenacious figure, he followed the progress of the invasion from his office at Government House, Stanley, taking shelter under his desk whenever the gunfire sounded close. He kept in touch with the islanders by telephoning in to the local radio station, whose manager, Patrick Watts, kept up a 16-hour live commentary on the crisis. When Hunt realised that the game was up, he took down a white net curtain, wrapped it round an umbrella as an improvised white flag and sent an aide out to discuss ceasefire terms. Then he put on his full ceremonial uniform, complete with plumed hat, and marched off to meet the enemy at Stanley town hall. "You have landed unlawfully on British territory and I order you to remove yourself and your troops forthwith," he told them.
It was all to no avail. Hunt was dispatched via the Uruguayan capital of Montevideo back to Britain, where he sat out the war, only to return to the South Atlantic after the British military victory in June. Initially, his job title was redefined as that of "civil commissioner", but in the final year of his posting, 1985, a new Falklands constitution reinstated the position of "governor". Hunt was always proud to say that he had arrived and left the Falklands with that title.
His love affair with the Falkland Islands might have seemed unusual given his previous postings. Since joining what was then His Majesty's Overseas Civil Service in 1951, he had served in Uganda (1962); Kuching, formerly the city of Sarawak, Malaysia (1964-65); Kota Kinabalu, formerly Jesselton, Malaysia (1965-67); Brunei (1967); Ankara (1968-70); Jakarta (1970-72); and Kuala Lumpur (1976-79). He was consul general at the British embassy in Saigon at the time of the fall of South Vietnam in 1975, and he and his wife – Mavis Underbank, whom he had married in 1951 – understandably described themselves as "confirmed tropical birds".
But the Falklands offered promotion and a chance for Hunt to resume his beloved hobby of flying (the job came with its own Cessna aircraft). So Mavis set aside her doubts and they set off for the distant islands, 8,000 miles away in the South Atlantic. Hunt loved it from the start. He drove around Stanley in his official car, a red London taxi, and quickly became involved in the numerous activities – horseracing festivals, sheepdog trials, and the like – that meld together the small farm communities of the Falklands hinterland, or "camp", beyond the capital.
To the islanders' delight, and the irritation of Whitehall, Hunt also went native. He championed the Falklands cause at every opportunity and opposed Foreign Office proposals to negotiate a leaseback solution to the Falkland Islands problem with Argentina. In retirement, he chaired the Falkland Islands Association until 2005, was president of the Falkland Islands Trust for many years and remained a sturdy advocate of the islanders' cause on the after-dinner lecture circuit.
Hunt was born in Redcar, Yorkshire, and educated at the local Coatham school. He read law at St Peter's College, Oxford, before joining the RAF as a cadet in 1941. He was commissioned as a pilot in 1944, and flew Spitfires with No 5 Squadron in India in 1946 before transferring to Germany with No 26 Squadron in 1947. He left active service in 1948, but remained in the reserves, where he reached the rank of flight lieutenant, until 1951.
Hunt was knighted in October 1982. His memoir, My Falkland Days, appeared in 1992. That year, too, he was portrayed by Ian Richardson in the BBC television drama, An Ungentlemanly Act, about the Argentinian invasion, though it was not a performance to his liking. He last visited the Falklands in June 2007, for the 25th anniversary of the conflict, and this week the flag on Government House in Stanley was lowered to half mast in his honour.
He is survived by Mavis and his children, Antony and Diana.
• Rex Masterman Hunt, diplomat and colonial administrator, born 29 June 1926; died 11 November 2012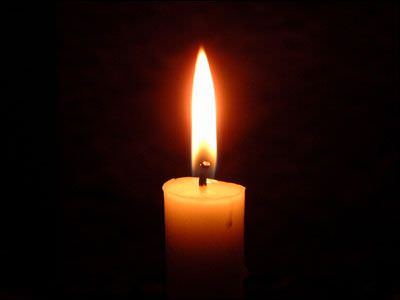 They made their way to the front of the church, following the queue of people united by the aching grief of losing someone. For some this grief was fresh and sharp, for others it was a dull ache and for others a long ago memory; but still at moments like this a sharp pain. Each of them clutched a nightlight, ready to light it and place it on a cross and be silent for a moment. There would be prayers; some articulate and others half remembered to someone who they weren't even sure was there.
These people came to the front and placed their candle in memory of a son who had died too soon. I watched the flame light up his face as he placed the candle tenderly on the cross. In that moment it was as if 30 or more years had vanished; I saw the same action as a new father laid his infant son down to sleep.
I am suddenly overwhelmed; I get to see moments like that more often than most.