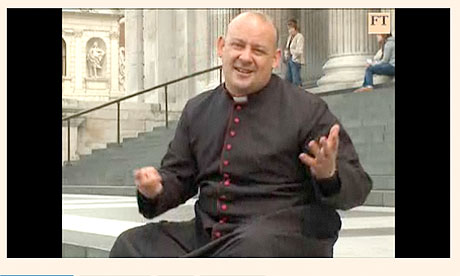 I have a lot of time for Rev Giles Fraser: former marxist/athiest but not fundy and still lefty (the Dean of St Paul's who resigned/was pushed out over the Occupy protests).
This really helped me this week:-
Prayer is about being where the light can get at you and helping you adjust to the truth of how things really are
Rowan Williams once brilliantly compared prayer to sunbathing. "When you're lying on the beach something is happening, something that has nothing to do with how you feel or how hard you're trying. You're not going to get a better tan by screwing up your eyes and concentrating. You give the time, and that's it. All you have to do is turn up. And then things change, at their own pace. You simply have to be there where the light can get at you."
Too much prayer is seen as effort, as an attempt to make things different by some mental act of will. But the world does not revolve around you or me. And I can't make it or other people dance to my tune by strenuously wishing things were other than they are. There is no magic involved. It's not about mysteriously offering up some shopping list of proposals to an absent-minded deity who might not have thought about them had you not suggested them first. It's not cosmic lobbying. The fundamental move is to give up trying to be in control.
……………………………………..
So, lots of fancy words, but does it work? Certainly not when it stays trapped in self-indulgent navel-gazing. And not when it is all about feeling sorry for oneself either. Of course there are tears – a form of prayer that the writers of the Bible described as lament. But all of this has to drop away too. Religious sunbathing is a great deal about adjusting our eyes to the nature of how things really are, adjusting to reality rather than constantly fighting it. ……
We are unaccustomed to the truth, and acclimatising one's eyes takes time. But it is only the truth that will set us free. …… For a few moments at least, I have given up trying to conscript reality into my own furious plan of action. And I glimpse that all will be well.
I like that- I have been around many people: Christian, athiest, agnostic whose motivation has been 'to conscript reality into my own furious plan of action.' For a Methodist Minister, post Sept 1st, that is always tempting….
http://apps.facebook.com/theguardian/commentisfree/belief/2012/jul/27/religious-sunbathing-giving-up-control?fb_ref=type:read,user:cmO8p5NUNpnchxMp0aIvC-QxOlM&fb_source=other_multiline&fb_action_types=news.reads