'Your so good'
I'm sorry: your 'what' is so good? Your tree, dog, significant other? It certainly isn't your grammar.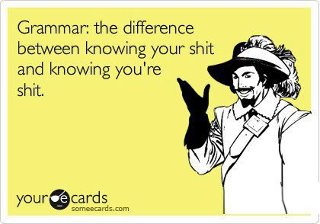 'Is this you're bag?'
Is this you are bag? Are you into surrealist sentences perchance?
We can all make grammatical slip ups: I do from time to time (and hang my head in shame when I do). However, the confusion of 'your' and 'you're' is so bad, so major that each time I read it on social media I am tempted to unfriend the person. How does someone over 30, with even a modicum of education manage it?
Honestly- I'm tempted to write a passive aggressive blog post about it.
Lol
Grrrrrr