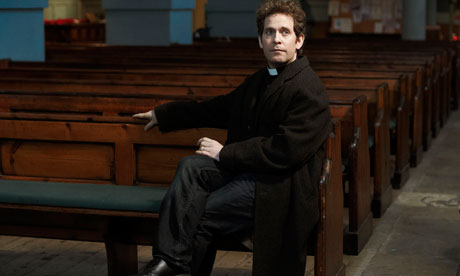 In the last few weeks as 'Rev' reached its denouement, several friends took  to calling me 'Rev'. This was not just one group, but several and with no discernible connection between them. There seemed to be several reasons:-
* He is male, on the telly & a Rev. I am male, not on the telly &……a Rev
* He does his best, gets flustered, seems overwhelmed, falls short & frequently seems exhausted. OK, that is satire, but even I can see elements where there might be a crossover there….
* His rolling internal monologue, full of self doubt and 'stuff' bears some resemblance to mine(apparently). Whilst I do not tweet/facebook/blog along the lines of 'Life is crap & I can't cope' (although I do sometimes feel like that), my social media output of questions, random articles & wry observations has some parallels. Perhaps.
I am still genuinely puzzled. I would like to think that, disillusioned by the standard Christian fare that I saw on social media in the past which I interpreted as 'Ignore your doubts, live in the victory & only share certainties (anything bad happened in the past and you are now 'delivered' from it) that I consciously try and do something that feels more 'authentic'. Maybe that has a 'Rev' parallel? But I can think of many others who do the same now.
As ever, I remain genuinelyconfused….